This article is part of an IT Career News series called Your Next Move. These articles take an inside look at the roles related to CompTIA certifications. Each article includes the responsibilities, qualifications, related job titles and salary range for the role. As you consider the next move in your IT career, check back with CompTIA to learn more about your job prospects and how to get there.
Want to feel like you're defending a castle? A career as a cybersecurity engineer could be for you! It's one of those essential roles that keeps things running smoothly. As the digital world keeps growing, information security is number one, and it's especially true for companies and organizations. Cybersecurity engineer careers are always evolving to keep up with the hackers and cybercriminals who continuously find new ways to infiltrate systems and steal private information. Cybersecurity engineers protect systems from unauthorized access.
What Is a Cybersecurity Engineer?
Cybersecurity engineers work to build and maintain a system that's safe against cyberattacks. They focus on fixing and protecting these systems and stay up to date on new technology so they can keep their system secure. Cybersecurity engineers work closely with a company's IT team to build an emergency plan to get things up and running quickly following a disaster.
Some responsibilities of a cybersecurity engineer include:
Creating new solutions to solve existing security issues
Enhancing security capabilities by evaluating new technologies and processes
Defining, implementing and maintaining corporate security policies
Configuring and installing firewalls and intrusion detection systems
Responding to information security issues
Supervising changes in software, hardware, facilities, telecommunications and user needs
Recommending modifications in legal, technical and regulatory areas that affect IT security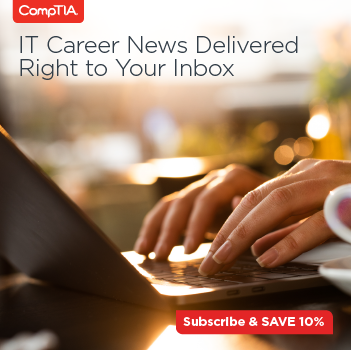 How To Become a Cybersecurity Engineer
Cybersecurity engineers work on the front line of information assurance, performing the nitty-gritty, detail-oriented tasks for companies and government organizations around the world. Their education, skills and training are the only things that stand between us and future attacks. The mass responsibility they carry for engineering systems puts them at the top of the hierarchy in cybersecurity teams and has made having a graduate degree almost standard for IT jobs that involve security engineering. Many of the skills for a career as a cybersecurity engineer can be validated with CompTIA Cybersecurity Analyst (CySA+), CompTIA Advanced Security Practitioner (CASP), CompTIA Security+ and CompTIA Linux+ These show that someone has the necessary skills to work in a cybersecurity position where good judgment, high-level troubleshooting and safe systems are important.

CompTIA Security+ covers skills used by security engineers, including security architecture skills. For example, engineers often compare and contrast security implications of different architecture models to choose the best one. They also apply security principles to secure enterprise infrastructure and ensure resilience and recovery in security architecture, including backups, disaster recovery and business continuity.
In addition to certifications, CompTIA offers a full suite of training products to help you learn the technical and professional skills necessary to become a cybersecurity engineer. Check out the CompTIA Career Roadmap to see what other certifications can help you land this role.

CertMaster Learn: Learn at your pace with interactive lessons and videos
CertMaster Labs: Get hands-on practice using real software applications
CertMaster Practice: Test your knowledge and find out if you're ready for the exam
The Official CompTIA Study Guide: Learn and review exam objectives with our comprehensive textbook
The Details
Salary Range
According to CyberSeek.org, the average advertised salary for a cybersecurity engineer is $127,094 as of April 2023.
Knowledge, Skills and Abilities (KSAs) for Cybersecurity Engineers
Intrusion detection system, intrusion prevention system, penetration and vulnerability testing
Firewall and intrusion detection/prevention protocols
Secure coding practices, ethical hacking and threat modeling
Windows, UNIX and Linux operating systems
Virtualization technologies
MySQL/MSSQL database platforms
Identity and access management principles
Application security and encryption technologies
Secure network architectures
Subnetting, domain name server (DNS), encryption technologies and standards, virtual private networks (VPNs), virtual LANs (VLANs), voice over IP (VoIP) and other network routing methods
Network and web-related protocols (e.g., TCP/IP, user datagram protocol (UDP), IP security (IPSec), HTTP, HTTPS, routing protocols, etc.)
Advanced persistent threats (APT), phishing and social engineering, network access controllers (NAC), gateway anti-malware and enhanced authentication
Job Titles Related to Cybersecurity Engineer
Data security engineer
Network security engineer
Information assurance(IA)/IT security engineer
+ Means More
At CompTIA, + means IT careers. That means you can consider us your partner on your journey to becoming certified, finding, interviewing for and winning that new job role.
We help you save money. Getting a CompTIA certification is an investment in your career but getting a discount can help. There are several ways you can save money on your CompTIA purchases.
We help you decide how to take your exam. Scheduling your exam is the easy part. CompTIA exams are offered at testing centers around the world as well as through online testing, which is available 24/7, so you can test in person or at home. Learn more about your testing options.
We help you land your next job. We've teamed up with ZipRecruiter so you can get access to job alerts, digital badging and more. Be sure to sync your credentials on ZipRecruiter as you continue to grow within the tech industry.
Need more job inspiration? Check out CompTIA's Tech Job Report video series now premiering on CompTIA Connect. Learn more about the latest data and trends in tech hiring and the implications for employers and the U.S. workforce with new episodes each month.
Read about more IT jobs featured in Your Next Move.
Will your next move be Technical Support Specialist? If so, download the exam objectives for CompTIA Security+ to learn more.