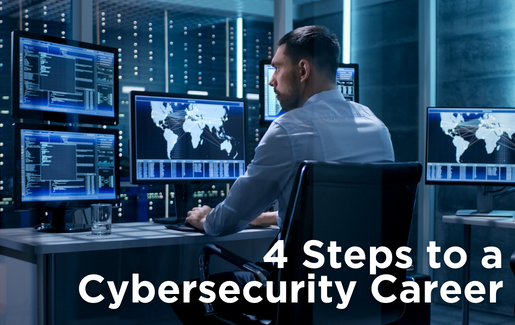 Did you know that organizations experience ransomware attacks once every 40 seconds? To combat this and other cyber threats, organizations of all sizes and in all industries are ramping up their cybersecurity rosters, as there are currently over 663,000 open cyber jobs in the U.S. Do you have what it takes to defend against them? Follow these four steps to get a cybersecurity job and build your cybersecurity career.
1. Inform Your Job Search with Cyberseek.org
Now that you've decided you want to get into cybersecurity, it may be overwhelming to think about where to start. To research where the jobs are, how much they pay and what a cybersecurity career path might look like, check out Cyberseek.org.
Start with the interactive map. When you click on a state, you can get more details about supply and demand, salaries and more. When you click on Illinois, you'll see there are 25,105 job openings and that the supply of cybersecurity workers is just below the national average percentage. That means the chance of a qualified cybersecurity professional landing a job in Illinois is pretty good!
You can dig even deeper to find out what job titles are most popular, what certifications employers are looking for and what categories the work falls under. You can also hone in on a specific metropolitan area, so if you know you want to work in Chicago, you can get the same data for that specific area.
But let's say you don't know where you want to go and you're more interested in learning about a specific career path. Cyberseek.org can help you with that, too. On the Cybersecurity Career Pathway, you can find your current position – or the position you want – and see your future possibilities. So, if you click on cybersecurity specialist, you'll see the average salary is $106,265 and that there are 10,244 job openings in the United States. You can also see what skills and education you need as well as related job titles.
2. Assess Your Cybersecurity Skills
Now that you have an idea of what you want to do and what skills you need to get there, it's time to assess your strengths and areas for improvement. We've developed a few quizzes to help you determine what level your cybersecurity skills are at and how much you know about famous hacks.
How much cybersecurity experience do you have? Have you been around since the T-Mobile hack, or are you a new kid on the block? Take our quiz to see if you're a novice, specialist or expert. Find out if you're a cybersecurity expert!
Before you can defend your network, you need to know what attacks could come your way. Test your knowledge of WannaCry, Yahoo, Target and other high-profile hacks in our latest quiz. Go ahead, name that hack!
3. Find Your Place on the Cybersecurity Career Pathway
The CompTIA Cybersecurity Career Pathway ensures that you have the foundational skills needed for a successful cybersecurity career. Our certifications equip everyone – from help desk technicians to cybersecurity risk managers – with the security knowledge and skills that businesses demand.
The pathway is not a one-size-fits-all solution. If you're just starting out, you may follow the pathway from start to finish, beginning with CompTIA A+. But if you are already working in cybersecurity and looking to get ahead, CompTIA Cybersecurity Analyst (CySA+) may be a better option for you.
4. Become a Certified Cybersecurity Pro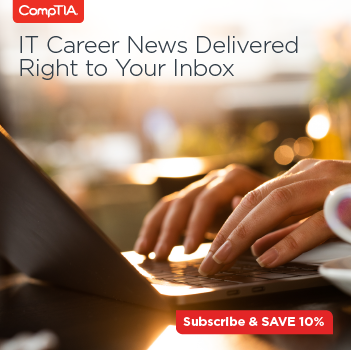 You have a plan and you've assessed your skills, so now it's time to take action. Start by downloading the exam objectives and sample questions for your certification so you have a thorough understanding of what's covered.
Going through the sample questions will help you hone in on what you need to study and highlight what you already know. CompTIA certification bundles give you the confidence you need to get certified at a discount of up to 49% off buying everything individually.

CompTIA bundles include:
Your preferred CompTIA Learning and Training product
CompTIA exam voucher for when you're ready to test
CompTIA exam voucher retake, giving you a second chance to take the exam right off the bat
If you want to know how to get into cybersecurity or how to get a cybersecurity job, following these four steps can help you get there. Do your research, assess your skills, find your place on the pathway and get certified to make sure the organizations you want to work for understand that you are a qualified cybersecurity professional.

Looking for more cybersecurity career resources? Check out our newly updated Cybersecurity Hub.