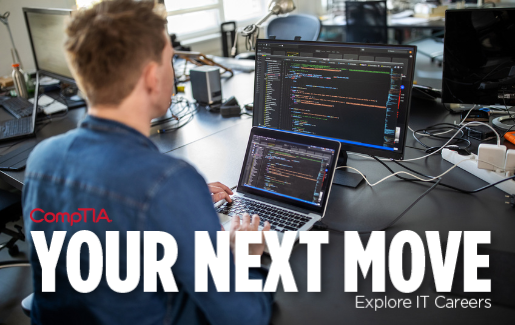 This article is part of an IT Career News series called Your Next Move. These articles take an inside look at the roles related to CompTIA certifications. Each article will include the responsibilities, qualifications, related job titles and salary range for the role. As you consider the next move in your IT career, check back with CompTIA to learn more about your job prospects and how to get there.
Web administrators use their technical side to code, creative side to design and collaborative side to fix issues. With such varied skills, web administrators are critical to an organization's online presence, making them a valued asset.
What is a Web Administrator?
Web administrators design, develop, maintain and troubleshoot websites. Most importantly, they ensure a safe and efficient user experience. This may include implementing security protocols, modifying programs, creating backups, resolving software problems, updating content and more. They may work with many clients or for one organization to design, program and monitor websites.
Specific responsibilities include:
Coding websites – the most popular languages include HTML and JavaScript
Collaborating with development teams to program websites
Setting up tools to monitor website traffic
Analyzing website traffic to inform design decisions
Addressing usability issues
Web administrators need a mix of technical and soft skills. First and foremost, web administrators must be comfortable working the back end of websites, so they need to be knowledgeable in programming languages and open-source software. Having a foundational knowledge of systems, servers and security will help web administrators develop efficient websites and troubleshoot problems. They also need soft skills like problem solving, critical thinking, active listening and time management.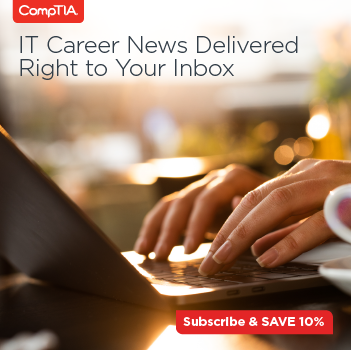 How to Become a Web Administrator
Requirements for a web administrator range from a high school diploma to a bachelor's degree, but the most common requirement is an associate's degree in web design or a similar field. More technical positions require a bachelor's degree in a computer science–related field.
Alternatively, IT certifications like CompTIA A+, CompTIA Network+ and CompTIA Security+ can give you the foundational skills you need, and CompTIA Linux+ can supplement your knowledge of programming languages and open-source operating systems.
The most common languages used by web administrators are HTML and JavaScript. Many web administrators also have training in graphic design. These can be learned in a traditional classroom environment or from self-study and hands-on practice.
With the right training and credentials, junior web administrator could be an entry-level position. But getting your feet wet on the IT infrastructure side, in a technical support or network support specialist role, will give you a better understanding of how hardware and applications work together.

In addition to certifications, CompTIA offers a full suite of training products to help you learn the technical and professional skills necessary to become a web administrator. Check out the CompTIA Career Roadmap to see what other certifications can help you land this role.

CertMaster Learn: Learn at your pace with interactive lessons and videos
CertMaster Labs: Get hands-on practice using real software applications
CertMaster Practice: Test your knowledge and find out if you're ready for the exam
The Official CompTIA Study Guide: Learn and review exam objectives with our comprehensive textbook
The Details
Web Administrator Salary Range
$39,550 to $142,080 with a median annual wage of $73,760 (U.S. Bureau of Labor Statistics (BLS)).
Web Administrator Job Outlook
From 2014 to 2024, the U.S. Bureau of Labor Statistics projects an increase of 27% for web administrators, with 39,500 net new jobs expected during that 10-year period.
Job Titles Related to Web Administration
Web content administrator
Website developer
Web application developer
Web analytics developer
+ Means More
At CompTIA, + means IT careers. That means you can consider us your partner on your journey to becoming certified, finding, interviewing for and winning that new job role.
We help you save money. Getting a CompTIA certification is an investment in your career but getting a discount can help. There are several ways you can save money on your CompTIA purchases.
We help you decide how to take your exam. Scheduling your exam is the easy part. CompTIA exams are offered at testing centers around the world as well as through online testing, which is available 24/7, so you can test in person or at home. Learn more about your testing options.
We help you land your next job. We've teamed up with ZipRecruiter so you can get access to job alerts, digital badging and more. Be sure to sync your credentials on ZipRecruiter as you continue to grow within the tech industry.
Need more job inspiration? Check out CompTIA's Tech Job Report video series now premiering on CompTIA Connect. Learn more about the latest data and trends in tech hiring and the implications for employers and the U.S. workforce with new episodes each month.

Will your next move be web administrator? Check out CompTIA Linux+ to enhance your programming skills.