This article is part of an IT Career News series called Your Next Move. These articles take an inside look at the roles related to CompTIA certifications. Each article will include the responsibilities, qualifications, related job titles and salary range for the role. As you consider the next move in your IT career, check back with CompTIA to learn more about your job prospects and how to get there.

If you think of the help desk as a video game, you'll immediately understand what a Tier II IT support technician does. Let me explain. While playing level one, you're getting your feet wet and learning how the game works.
Once you master level one, you are rewarded by moving up to level two, where you are met with more complex challenges. IT pros who have mastered their work as Tier I IT support technicians can move up to a Tier II IT support technician – where the technical issues are often more difficult to resolve.
What Is a Tier II IT Support Technician?
A Tier II IT support technician may also be advertised as a Tier II help desk technician or analyst, or even a Tier II system support technician.
An IT pro in this position is responsible for assisting internal or external clients in the following ways:
Resolve complex issues requiring detailed systems and applications knowledge that have been escalated from Tier I
Maintain system capabilities by testing existing equipment and programs
Try out new systems and software
Train users on proper use of hardware and software
Manage and train Tier I support technicians
IT support is usually a large part of a company's overall customer service philosophy, so a support technician should be able to straddle the technical world of IT and the practical side of customer service. Tier II IT support technicians usually have a specialization and are able to determine if a problem is a new issue or an existing one.
For example, perhaps a customer spent 10 minutes working with a Tier I technician on a software issue without a resolution. The issue would then be escalated to a Tier II tech, who would then either fix the problem or categorize it as an open bug. In that case, the Tier II tech adds the entry to the bug list that is eventually handed over to the developer to rectify.
IT Career Paths: How to Get into IT Support
How the Help Desk Is Structured
By design, the help desk is structured to staff the front line with IT pros who are trained to quickly help end users with minor technical difficulties, like accessing new software, offline printers or even software updates. These Tier I IT support technicians are usually entry-level employees and generally serve as an FAQ knowledge base for clients.
If Tier I can't solve the problem, the issue is escalated to Tier II. Tier II positions require more experience, specialization and training. Similarly, Tier III jobs require even further experience and education.
Moving up through the help desk not only increases your paycheck, but also, the knowledge you gain during your tenure can help you expand your career path to cloud and systems administration, network operations, cybersecurity or IT business management – just to name a few.
How to Become a Tier II IT Support Technician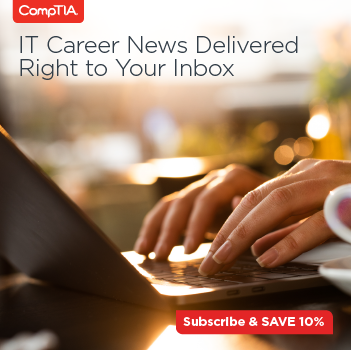 Certifications like CompTIA A+ can get your foot in the door by proving to employers you have the skills they look for in IT support technicians. And adding CompTIA Network+ and CompTIA Security+ can help you advance your career from Tier I to Tier II. Check out the CompTIA Career Roadmap to see what other certifications can help you become a Tier II IT support technician.
The Details
Tier II IT Support Technician Salary Range
$52,270 to $88,240 with a median annual wage of $63,460 (U.S. Bureau of Labor Statistics (BLS)).
Tier II IT Support Technician Job Outlook
Employment of computer support specialists is projected to grow 10% from 2018 to 2028, faster than the average for all occupations, with 83,100 net new jobs expected during that 10-year period. Employment of support specialists within computer systems design and related services firms is projected to grow by 24%.
Job Titles Related to Tier II IT Support Technician
Will your next move be Tier II IT support technician? If so, check out CompTIA Network+ or CompTIA Security+ to get the skills employers are looking for.