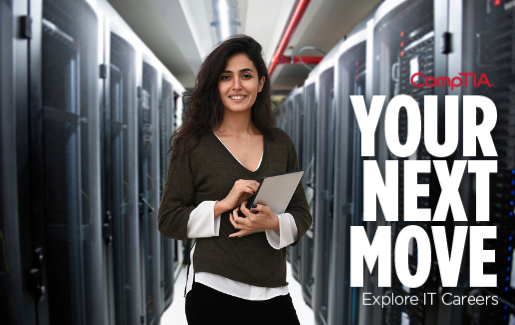 This article is part of an IT Career News series called Your Next Move. These articles take an inside look at the roles related to CompTIA certifications. Each article will include the responsibilities, qualifications, related job titles and salary range for the role. As you consider the next move in your IT career, check back with CompTIA to learn more about your job prospects and how to get there.
Demand for cybersecurity jobs is growing, and working as a network security specialist is a great example of how you can leverage your technology and analysis skills to solve problems that contribute to high-level organizational decisions. If you enjoy the challenge of keeping bad actors at bay, network security specialist may be a good next step for you.
What Is a Network Security Specialist?
A network security specialist is responsible for the procurement, set up and maintenance of hardware and software systems designed to ensure network security in the following ways:
Deploys, tests and maintains security systems like VPNs, firewalls and email security
Ensures hardware and software are well maintained and up to date with security requirements
Confirms that the current network system security is suitable for future requirements
Works with external suppliers to source solutions
Generates performance reports
Communicates with management to promote security best practices
The network security specialist supports the IT security team. They will identify and solve network problems both remotely and on premise. Some network security specialists research, evaluate, recommend and implement other security devices as well. This could include installing computer security software, conducting regular security audits, assisting in disaster recovery and gathering evidence regarding cybercrimes.
Network security specialist roles can vary in title depending on the industry. Some jobs fall under the title of information security analyst, IT security specialist or network security engineer.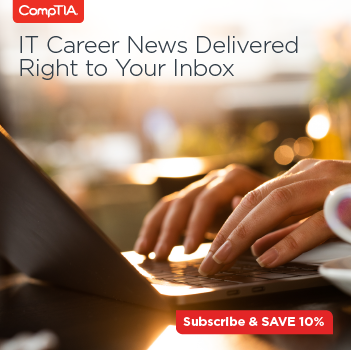 How To Become a Network Security Specialist
Most companies hiring a network security specialist are looking for someone with a bachelor's degree in a computer-related field like computer science, information technology or management information systems. A network security specialist is a mid-level role that typically requires 2 to 3 years of experience working in networking systems. Aspiring network security specialists should be knowledgeable in network access control (NAC) systems, firewalls, routers, incident response techniques, intrusion prevention systems, information security methodologies, authentication protocols and different attack types.
CompTIA Network+ teaches the skills necessary to begin a career in IT infrastructure covering troubleshooting, configuring and managing networks. The latest version of the CompTIA Network+ (N10-008) exam addresses current networking technologies and proves candidates have the knowledge and skills required to:
Design and implement functional networks
Configure, manage and maintain essential network devices
Use devices such as switches and routers to segment network traffic and create resilient networks
Identify benefits and drawbacks of existing network configurations
Implement network security, standards and protocols
Troubleshoot network problems
Support the creation of virtualized networks
CompTIA Security+ validates the baseline skills necessary to perform core security functions and pursue an IT security career. Successful candidates will possess the practical knowledge and problem-solving skills required to:
Assess the security posture of an enterprise environment and recommend and implement appropriate security solutions
Monitor and secure hybrid environments, including cloud, mobile and IoT
Operate with an awareness of applicable laws and policies, including principles of governance, risk and compliance
Identify, analyze and respond to security events and incidents
CompTIA PenTest+ teaches the skills required of a network security specialist. Specifically, CompTIA PenTest+ is for cybersecurity professionals tasked with penetration testing and vulnerability management and requires candidates to demonstrate the hands-on ability to test devices in new environments such as the cloud and mobile, in addition to traditional desktops and servers.
The new CompTIA PenTest+ (PT0-002) is available now and will prove successful candidates have the knowledge and skills required to:
Plan and scope a penetration testing engagement including vulnerability scanning
Understand legal and compliance requirements
Analyze results
Produce a written report with remediation techniques
In addition to the certification, CompTIA will release a full suite of training products to help you learn and practice penetration testing and vulnerability management skills and prepare for your certification exam.

CertMaster Learn: Learn at your pace with interactive lessons and videos
CertMaster Labs: Get hands-on practice using real software applications
CertMaster Practice: Test your knowledge and find out if you're ready for the exam
The Official CompTIA Study Guide: Learn and review exam objectives with our comprehensive textbook

The Details
Network Security Specialist Salary Range
The median annual wage for network security specialists is $80,600 as of May 2021 (U.S. Bureau of Labor Statistics (BLS).
Network Security Specialist Job Outlook
From 2021 to 2031, The BLS projects an increase of 3% for network security specialist positions with 11,300 net new jobs expected during that 10-year period.
Job Titles Related to Network Security Specialist
+ Means More
At CompTIA, + means IT careers. That means you can consider us your partner on your journey to becoming certified, finding, interviewing for and winning that new job role.
We help you save money. Getting a CompTIA certification is an investment in your career but getting a discount can help. There are several ways you can save money on your CompTIA purchases.
We help you decide how to take your exam. Scheduling your exam is the easy part. CompTIA exams are offered at testing centers around the world as well as through online testing, which is available 24/7, so you can test in person or at home. Learn more about your testing options.
We help you land your next job. We've teamed up with ZipRecruiter so you can get access to job alerts, digital badging and more. Be sure to sync your credentials on ZipRecruiter as you continue to grow within the tech industry.
Need more job inspiration? Check out CompTIA's Tech Job Report video series now premiering on CompTIA Connect. Learn more about the latest data and trends in tech hiring and the implications for employers and the U.S. workforce with new episodes each month.

Read about more IT jobs featured in Your Next Move.
Will your next move be network security specialist? If so, download the exam objectives for CompTIA PenTest+, Network+ and Security+ to learn more.