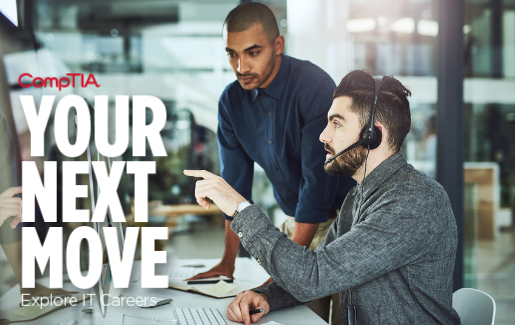 This article is part of an IT Career News series called Your Next Move. These articles take an inside look at the roles related to CompTIA certifications. Each article will include the responsibilities, qualifications, related job titles and salary range for the role. As you consider the next move in your IT career, check back with CompTIA to learn more about your job prospects and how to get there.
At any given time, there's a lot going on in the IT department. Everything from maintenance and updates to cybersecurity and new projects – these are the type of things that keep IT pros busy day in and day out. Somebody has to be the point person to lead the group and make sure they are efficiently and effectively supporting the organization. If you have a strong technical background and a head for business management and leadership skills, IT manager could be your next move.
What Is an IT Manager?
An IT manager is responsible for ensuring day-to-day technology operations are running smoothly in the following ways:
Stays current on new technologies and standards
Carries out administrative functions
Oversees risk assessment and management
Provides direction to the IT department
Manages and mentors team members
Develops and executes company policies
Works with other departments within the organization
In addition to technical know-how, you should be excellent at communicating, have an analytical mindset and a solid understanding of other areas of the business, including budgeting and forecasting. To be successful in this role, you should have some demonstrated experience in managing people and projects.
How to Become an IT Manager
Many IT managers have worked their way up within the IT department. They may have started as a project manager or a team leader and been promoted to IT manager.
While there are too many potential pathways to fully outline here, there are three key components a qualified candidate must possess in order to land an IT manager role:
Technical expertise
People management
Project management
Potential employers will want to see some formal education and/or equivalent technical experience. Many companies are looking for a degree in computer science or a related field. They'll also want to see proof of technical expertise in terms of the previous positions you've held and the IT certifications you've earned. Check out what kinds of jobs you can get with CompTIA certifications.
Managing people is a big part of the job description for an IT manager. The more experience you gain here can also help propel you into an IT director position one day. When applying for an IT manager role, point to instances where you had ownership of a team with a successful outcome – as well as difficult situations you've encountered and learned from.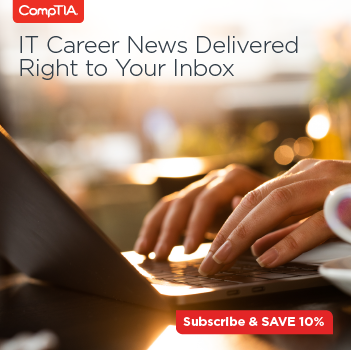 Perhaps one of the best indicators of a qualified IT manager is a successful record of project management experience. Employers will want to see your background in managing a project lifecycle, ensuring appropriate communication, managing resources and stakeholders, and maintaining project documentation.
To gain that experience, turn to certifications like CompTIA Project+. CompTIA Project+ is ideal for professionals who need to manage smaller, less complex projects as part of their other job duties but still have foundational project management skills. CompTIA Project+ is more versatile than other certifications because it covers essential project management concepts beyond the scope of just one methodology or framework.
In addition to certifications, CompTIA offers a range of training products for many certifications. To study for CompTIA Project+ (PK0-004), there's a study guide and CertMaster Practice, online exam prep. But for CompTIA Project+ (PK0-005), which comes out in late 2022, there will be a full suite of CertMaster products, including eLearning, labs and exam prep.

CertMaster Practice: Test your knowledge and find out if you're ready for the exam
The Official CompTIA Study Guide: Learn and review exam objectives with our comprehensive textbook
The Details
IT Manager Salary Range
The median salary for IT manager is $151,150 a year (U.S. Bureau of Labor Statistics (BLS)).
IT Manager Job Outlook
From 2020 to 2030, the BLS projects an increase of 11% for the category of computer and information systems managers with 52,700 net new jobs expected during that 10-year period.
Job Titles Related to IT Manager
+ Means More
At CompTIA, + means IT careers. That means you can consider us your partner on your journey to becoming certified, finding, interviewing for and winning that new job role.
We help you save money. Getting a CompTIA certification is an investment in your career but getting a discount can help. There are several ways you can save money on your CompTIA purchases.
We help you decide how to take your exam. Scheduling your exam is the easy part. CompTIA exams are offered at testing centers around the world as well as through online testing, which is available 24/7, so you can test in person or at home. Learn more about your testing options.
We help you land your next job. We've teamed up with ZipRecruiter so you can get access to job alerts, digital badging and more. Be sure to sync your credentials on ZipRecruiter as you continue to grow within the tech industry.
Need more job inspiration? Check out CompTIA's Tech Job Report video series now premiering on CompTIA Connect. Learn more about the latest data and trends in tech hiring and the implications for employers and the U.S. workforce with new episodes each month.
Read about more IT jobs featured in Your Next Move.
Will your next move be IT manager? If so, download the exam objectives for CompTIA Project+ to learn more.