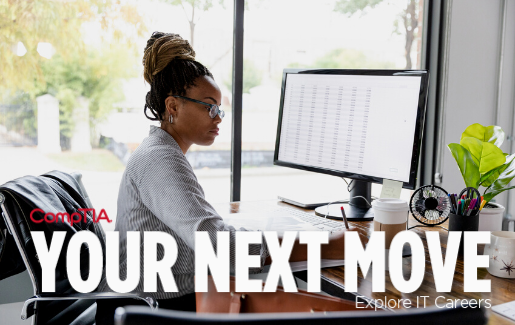 This article is part of an IT Career News series called Your Next Move. These articles take an inside look at the roles related to CompTIA certifications. Each article will include the responsibilities, qualifications, related job titles and salary range for the role. As you consider the next move in your IT career, check back with CompTIA to learn more about your job prospects and how to get there.
It's a myth that people who are good at data are only good with numbers. Yes, an ability to understand numbers is helpful, but roles in data analytics also need to be able to tell a story based on those numbers. If you like numbers and digging deep into datasets, but also possess a need to be creative and satisfy your curiosity, then data analyst may be a good next step for you.
What Is a Data Analyst?
A data analyst works closely with an organization's data to assist in making better business decisions and provide insights that support decision-making efforts in the following ways:
Collects, analyzes and reports on data through creating reports, dashboards and other visualizations associated with customers, business processes or market economics
Develops and implements databases and data collection systems
Acquires data from primary and secondary sources
Cleans and validates data
Designs data models
Implements new data analytics methodologies
There are data analysts who specialize in industries like finance, business, health care, e-commerce and even marketing. But data is paramount in every industry these days. Most data analysts work with IT teams, management and/or data scientists to determine big picture goals. They then collect, analyze and report on the plethora of data an organization gathers and transform it into a more digestible format for stakeholders.
Data analyst roles can vary in title depending on the industry. Some jobs fall under the title of marketing analyst, business analyst or consumer data engineer.
How To Become a Data Analyst
Many companies hiring a data analyst are looking for someone with a bachelor's degree in statistics, mathematics, economics or data science. A data analyst can be an entry-level position, but many transition into this job from a related field like business or economics, usually by upskilling mid-career through additional learning and certifications like CompTIA Data+, available now.
CompTIA Data+ is an early-career data analytics certification for professionals tasked with developing and promoting data-driven business decision making.
This brand-new data analytics certification covers the skills required to facilitate data-driven business decisions, including:
Mining data
Manipulating data
Visualizing and reporting data
Applying basic statistical methods
Analyzing complex datasets while adhering to governance and quality standards throughout the entire data life cycle
In addition to the certification, CompTIA will release a full suite of training products to help you learn and practice data analysis skills and prepare for your certification exam.

CertMaster Learn: Learn at your pace with interactive lessons and videos
CertMaster Labs: Get hands-on practice using real software applications
CertMaster Practice: Test your knowledge and find out if you're ready for the exam
The Official CompTIA Study Guide: Learn and review exam objectives with our comprehensive textbook
CompTIA Live Online Training: Train in real time with experienced instructors online
Read more about the best data analytics certifications and check out the CompTIA Career Roadmap to see what other certifications can help you become a data analyst.
The Details
Data Analyst Salary Range
According to the U.S. Bureau of Labor Statistics, the median annual salary for data analysts is $98,740 – 113% higher than the median national wage for all occupations.

Early career range: $46,450 - $98,740
Mid career range: $65,430 - $132,030
Advanced career range: $98,740 - $166,780
Note: Many factors influence salary, such as location, job level, years of experience, specialty skills, industry sector, employer size and more.
Data Analyst Job Outlook
The need for data analysts will continue to grow, reaching about 485,400 by 2033, with the 10-year projected growth rate at 61% above the national rate.
According to Lightcast, there were 115,000 job postings by U.S. employers for data analysts during the 12 month period ending April 2023, and 2 million job postings in the U.S. seeking candidates with data analysis related skills.
Job Titles Related to Data Analyst
+ Means More
At CompTIA, + means IT careers. That means you can consider us your partner on your journey to becoming certified, finding, interviewing for and winning that new job role.
We help you save money. Getting a CompTIA certification is an investment in your career but getting a discount can help. There are several ways you can save money on your CompTIA purchases.
We help you decide how to take your exam. Scheduling your exam is the easy part. CompTIA exams are offered at testing centers around the world as well as through online testing, which is available 24/7, so you can test in person or at home. Learn more about your testing options.
We help you land your next job. We've teamed up with ZipRecruiter so you can get access to job alerts, digital badging and more. Be sure to sync your credentials on ZipRecruiter as you continue to grow within the tech industry.
Need more job inspiration? Check out CompTIA's Tech Job Report video series now premiering on CompTIA Connect. Learn more about the latest data and trends in tech hiring and the implications for employers and the U.S. workforce with new episodes each month.
Read about more IT jobs featured in Your Next Move.
Will your next move be data analyst? If so, check out CompTIA CertMaster Learn + Labs for Data+ - an online eLearning platform covering data analysis skills. Sign up today to start your free trial.