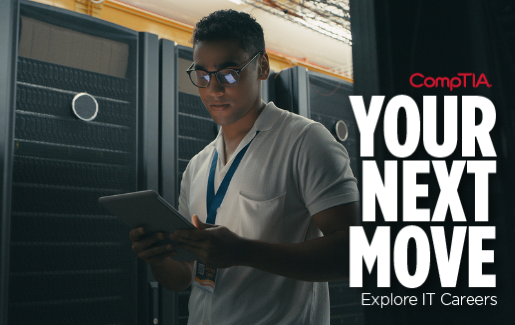 This article is part of an IT Career News series called Your Next Move. These articles take an inside look at the roles related to CompTIA certifications. Each article includes the responsibilities, qualifications, related job titles and salary range for the role. As you consider the next move in your IT career, check back with CompTIA to learn more about your job prospects and how to get there.
There's no question that cybercrime is on the rise, targeting businesses of all sizes, government agencies, financial institutes and military organizations around the world. If you have a passion for resolving complex issues, a cybersecurity specialist job role might be for you.
What Is a Cybersecurity Specialist?
Cybersecurity specialists must continually adapt to stay a step ahead of cyber attackers. They must remain up to date on the latest methods attackers are using to infiltrate computer systems and IT security.
Cybersecurity specialists continually analyze risks and develop strategies to prevent breaches. They rely on teamwork because of the broad scope of security measures that need to be applied to protect the integrity of the network.
Other duties include:
Keeping a close watch for the organization's networks and making sure there are no security breaches
Investigating any violations and running defensive protocols
Protecting sensitive information by installing and using software, such as firewalls and data encryption programs
Documenting security breaches and the extent of the damage caused by the breaches through extensive reports
Simulating attacks to look for vulnerabilities in their systems before they can be exploited and write reports based on simulation results
How the Cybersecurity Specialist Job Title Has Changed
It's important to note that the job title of cybersecurity specialist is vague and applies a general set of skills conducted by IT pros such as the following:
Cybersecurity job roles have matured since the historic attacks of the mid-2010's. Due to this evolution, employers are using the job title cybersecurity specialist job title less than they did in the past because cybersecurity job roles have become more specialized.
Although these skills are still widely used in the market, they are listed under different job titles. Today organizations are more likely to hire security administrators or security analysts instead of cybersecurity specialists. We expect to see fewer job postings for cybersecurity specialist moving forward.
The job role of cybersecurity specialist can be traced back to previous Cisco vendor-specific certifications in security operations.
"Cybersecurity specialists play a key role in securing information systems. By monitoring, detecting, investigating, analyzing and responding to security events, cybersecurity specialists protect systems from cybersecurity risks, threats and vulnerabilities," Cisco wrote. "Cybersecurity specialists work on IT teams that are dedicated to protecting the integrity of the business's network and data."
Roles and Responsibilities of a Cybersecurity Specialist
Before you jump into this job role, or any cybersecurity job role, ask yourself if you are prepared to take on the following roles and responsibilities:
Adapt to constant change
Continuously educate yourself
Work well under pressure
Accept that you might be ignored by executives
Accept failure and blame, even when it is not your fault
Remain calm and not lose your temper
Be able to comfortably explain "what went wrong", including the details
Expect that sometimes there will be no ideal solution
In general, IT and cybersecurity jobs require humility. The more you work in the field, the more you realize how little you know.
The eight examples above are a modification from a Tech Republic article that rings true to this day. You must be able to take rejection. You must understand you are part of a larger cybersecurity team – a team that may not put your interests first.
How to Become a Cybersecurity Specialist
Cybersecurity specialist skills are highly sought after and provide IT pros with opportunities for a wide variety of jobs and organizations. Most cybersecurity specialist positions require a bachelor's degree in a computer-related field, although that is changing as employers take experience and certifications into more consideration.
Cybersecurity certifications, like CompTIA Security+ and CompTIA Cybersecurity Analyst (CySA+), prove you have the skill set and knowledge to complete the tasks the position demands and can help you get into the cybersecurity field.

CompTIA Security+ covers the latest core skills needed to mitigate threats, attacks and vulnerabilities. This requires the ability to identify, analyze and respond to security incidents, apply security controls, and troubleshoot problems. A specialist must also understand common threat vectors and attack surfaces, and know how to defend and protect the network.
In addition, the certification covers security program management and oversight that applies to all cybersecurity work roles, not just security specialists. This includes summarizing elements of effective security governance, explaining elements of the risk management process, understanding the processes associated with third-party risk assessment and management, explaining the types and purposes of audits and assessments, and implementing security awareness practices.
The Details
Salary Range
The average advertised salary for a cybersecurity specialist is $106,265 (Source: Cyberseek, 2023).
Job Titles Related to Cybersecurity Specialist
Will your next move be cybersecurity specialist? If so, check out CompTIA Security+ to get you there.