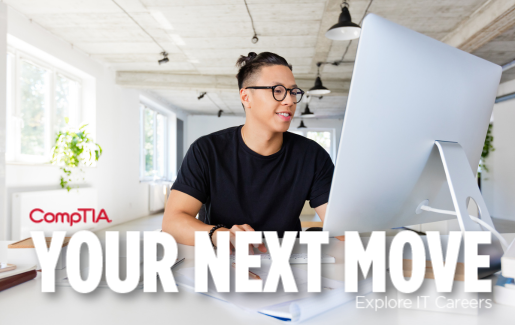 This article is part of an IT Career News series called Your Next Move. These articles take an inside look at the roles related to CompTIA certifications. Each article will include the responsibilities, qualifications, related job titles and salary range for the role. As you consider the next move in your IT career, check back with CompTIA to learn more about your job prospects and how to get there.
The cloud isn't going anywhere. In fact, adoption of cloud technologies has grown faster than ever as companies pivot to a more permanent remote workforce. That shift has created yet another new cybersecurity role: cloud penetration tester. If you have a background in security intelligence and understand the cloud, a specialization as a cloud penetration tester may be a good next step for you.
What Is a Cloud Penetration Tester?
A cloud penetration tester is tasked with securing an organization's cloud environment through penetration testing and their understanding of cloud security issues in the following ways:
Identifies risks, vulnerabilities and gaps in the cloud system
Defines the impact of exploitable vulnerabilities and prioritizes them accordingly
Determines how to leverage access obtained via exploitation
Delivers clear and actionable remediation
Provides best practices in maintaining visibility
A cloud penetration tester is a type of penetration tester who focuses on the security of cloud-specific configurations, cloud system passwords, cloud applications and encryption, application programming interfaces (API), databases, storage access and other challenges. Companies hire a qualified cloud penetration tester to improve their overall cloud security, avoid breaches and achieve compliance.
How to Become a Cloud Penetration Tester
In general, the role of penetration tester is not an entry-level job – you must gain IT and cybersecurity experience first. This is especially true for a cloud penetration tester, as it is a very specialized role.
Employers will expect candidates to have advanced understanding of the cloud and be able to leverage this knowledge to ethically hack into systems and stay up-to-date with security trends and best practices. Many penetration tester roles require knowledge of specific programming languages or operating systems as well.
To gain that experience you might start on an IT infrastructure pathway and then transition to cybersecurity. You could work as a cloud specialist or cloud engineer to learn how to maintain and optimize cloud infrastructure services.
Or, you could start in cybersecurity as a cybersecurity analyst or a cloud security specialist and work your way up to cloud penetration tester.
But being able to think like a hacker and apply those strategies hands-on is what really matters in this role. Certifications like CompTIA Cloud+, CompTIA Security+ and CompTIA PenTest+ can help you validate the skills and experience you need as you work toward a cloud penetration testing role.
CompTIA Cloud+ validates the skills needed to deploy and automate secure cloud environments that support the high availability of business systems and data. This certification is a great source of knowledge for those who have little experience working in the cloud.
CompTIA Security+ validates the baseline skills necessary to perform core security functions and pursue an IT security career. This certification is a great place to start if you don't have any cybersecurity training or experience.
CompTIA PenTest+ is intended to follow CompTIA Security+, or equivalent experience, and has a technical, hands-on focus. This certification is for IT pros tasked with penetration testing and vulnerability management and requires candidates to demonstrate the hands-on ability to test devices in new environments such as the cloud and mobile, in addition to traditional desktops and servers.
The new CompTIA PenTest+ (PT0-002) launched last month and certifies that successful candidates have the knowledge and skills required to:
Plan and scope a penetration testing engagement including vulnerability scanning
Understand legal and compliance requirements
Analyze results
Produce a written report with remediation techniques
In addition to the certification, CompTIA will soon offer a full suite of training products to help you learn and practice penetration testing and vulnerability management skills and prepare for your certification exam.

CertMaster Learn: Learn at your pace with interactive lessons and videos
CertMaster Labs: Get hands-on practice using real software applications
CertMaster Practice: Test your knowledge and find out if you're ready for the exam
The Official CompTIA Study Guide: Learn and review exam objectives with our comprehensive textbook
The Details
Cloud Penetration Tester Salary Range
The average salary for cloud penetration testers is $124,424 a year as of April 2023 (Cyberseek.org).
Cloud Penetration Tester Job Outlook
From 2022 to 2032, the U.S. Bureau of Labor Statistics (BLS) projects an increase of 32% for penetration testing positions with 53,200 net new jobs expected during that 10-year period.
Job Titles Related to Cloud Penetration Tester
+ Means More
At CompTIA, + means IT careers. That means you can consider us your partner on your journey to becoming certified, finding, interviewing for and winning that new job role.
We help you save money. Getting a CompTIA certification is an investment in your career but getting a discount can help. There are several ways you can save money on your CompTIA purchases.
We help you decide how to take your exam. Scheduling your exam is the easy part. CompTIA exams are offered at testing centers around the world as well as through online testing, which is available 24/7, so you can test in person or at home. Learn more about your testing options.
We help you land your next job. We've teamed up with ZipRecruiter so you can get access to job alerts, digital badging and more. Be sure to sync your credentials on ZipRecruiter as you continue to grow within the tech industry.
Need more job inspiration? Check out CompTIA's Tech Job Report video series now premiering on CompTIA Connect. Learn more about the latest data and trends in tech hiring and the implications for employers and the U.S. workforce with new episodes each month.
Read about more IT jobs featured in Your Next Move.
Will your next move be cloud penetration tester? If so, download the exam objectives for CompTIA PenTest+ to learn more.