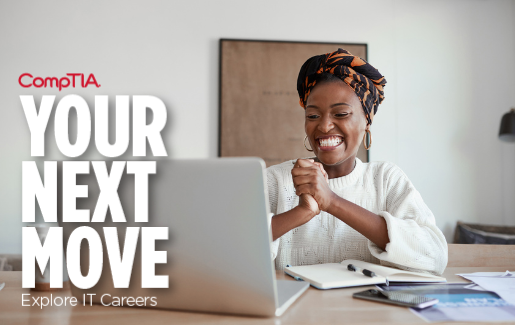 This article is part of an IT Career News series called Your Next Move. These articles take an inside look at the roles related to CompTIA certifications. Each article includes the responsibilities, qualifications, related job titles and salary range for the role. As you consider the next move in your IT career, check back with CompTIA to learn more about your job prospects and how to get there.
The future is in the cloud. With the rise of smart devices and interconnected everything, cloud technology and careers are skyrocketing. Because cloud jobs require out-of-the-box thinking and problem solving, cloud computing is not for everyone. But if you like to think creatively, stay on top of current technology and be interconnected; cloud engineering could be in your future.
What Is a Cloud Engineer?
A cloud engineer is responsible for implementing and maintaining a cloud system. They manage the code to keep the system running smoothly. They are also responsible for maintaining the cloud so it addresses the business's needs fully and accurately. Cloud engineers often have a specialization that focuses on more specific tasks, such as software, network, systems or security.
What Does a Cloud Engineer Do?
Design, maintain and operate cloud systems and applications
Develop applications for cloud computing
Understand the language of business and developing a cloud system to address the business's needs
Program code for the cloud system in languages such as Java, Python, Ruby and C++
Plan, design, manage and support current cloud technology systems and develop a plan for future systems
Develop a support system to keep cloud systems secure and interconnected to all devices
Prevent data loss by implementing a disaster recovery and business continuity plan
How to Become a Cloud Engineer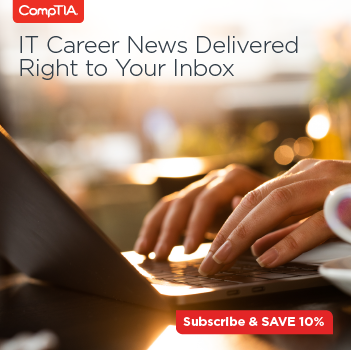 Cloud engineering is not an entry-level role. It requires three to five years of work experience on top of a bachelor's degree in computer science or a related field. Some positions may require a master's degree. Many positions also require certifications depending on what systems they work with. IT pros in cloud computing may benefit from IT certifications like CompTIA Cloud+ and CompTIA Linux+.
You can get into a cloud computing career from many different places, but having an IT infrastructure background will help. This may include jobs such as software developer, systems administrator, database administrator, network engineer or enterprise architect. A position as an administrator typically leads into specialist positions, which then provide the stepping stone to move into cloud. This doesn't mean you can't start from a different position though! Any position with network architecture and database experience is a great fit for cloud roles.

CompTIA Linux+ validates the skills of IT pros with hands-on experience configuring, monitoring and supporting servers running on the Linux operating system.
The exam focuses on the following skills:
Security
Kernel modules
Storage and virtualization
Device management at the enterprise level
Git and automation
Networking and firewalls
Server side and command line
Sever coverage
Troubleshooting
SELinux
In addition to certifications, CompTIA offers a full suite of training products to help you learn the technical and professional skills necessary to become a Cloud engineer. Check out the CompTIA Career Roadmap to see what other certifications can help you land this role.

CertMaster Learn: Learn at your pace with interactive lessons and videos
CertMaster Labs: Get hands-on practice using real software applications
CertMaster Practice: Test your knowledge and find out if you're ready for the exam
The Official CompTIA Study Guide: Learn and review exam objectives with our comprehensive textbook
The Details
Salary Range
According to Burning Glass, in 2021 the wage for cloud engineers could range from $88,200 to $141,200.
Cloud Engineer Job Outlook
There were more than 42,000 total job postings for Cloud Engineers from June 2020 to May 2021 in the United States.
Job Titles Related to Cloud Engineer
Cloud software engineer
Cloud security engineer
Cloud consultant
Cloud developer
+ Means More
At CompTIA, + means IT careers. That means you can consider us your partner on your journey to becoming certified, finding, interviewing for and winning that new job role.
We help you save money. Getting a CompTIA certification is an investment in your career but getting a discount can help. There are several ways you can save money on your CompTIA purchases.
We help you decide how to take your exam. Scheduling your exam is the easy part. CompTIA exams are offered at testing centers around the world as well as through online testing, which is available 24/7, so you can test in person or at home. Learn more about your testing options.
We help you land your next job. We've teamed up with ZipRecruiter so you can get access to job alerts, digital badging and more. Be sure to sync your credentials on ZipRecruiter as you continue to grow within the tech industry.
Need more job inspiration? Check out CompTIA's Tech Job Report video series now premiering on CompTIA Connect. Learn more about the latest data and trends in tech hiring and the implications for employers and the U.S. workforce with new episodes each month.
Read about more IT jobs featured in Your Next Move.
Will your next move be Cloud engineer? If so, download the exam objectives for CompTIA Linux+ to learn more.