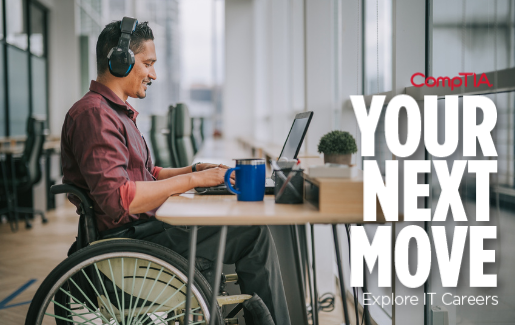 This article is part of an IT Career News series called Your Next Move. These articles take an inside look at the roles related to CompTIA certifications. Each article will include the responsibilities, qualifications, related job titles and salary range for the role. As you consider the next move in your IT career, check back with CompTIA to learn more about your job prospects and how to get there.
If you like to be at the forefront of technology and want to design and implement your own ideas, then becoming a cloud architect may be in your future.
What Is a Cloud Architect?
A cloud architect designs and plans cloud environments, depending on the needs of their organization.
Successful cloud architects possess the following traits:
Problem solving – as cloud technology grows, so will the problems that pop up

Being versatile and able to handle things like front-end platforms, servers, storage, delivery and networks required to manage cloud storage

Experience with a number of IT fields, including client systems and applications, networking, infrastructure and web tools
The cloud refers to any process which has servers on the internet versus in house. A cloud architect must manage and oversee the technology that makes the cloud work for an organization. They must always be knowledgeable about new developments and recent updates, and keep security of cloud services top of mind.
Cloud architects are now a vital part of an organization's IT team. More and more, cloud solutions make more sense than in-house servers for certain business uses, which means a position like cloud architect will only become more prevalent.

How to Become a Cloud Architect
Most organizations hiring a cloud architect are looking for someone with at least bachelor's degree in computer science, computer engineering or mathematics. However, since the position is a relatively new one, some smaller companies or startups may hire someone without a four-year degree, as long as they have the skills, experience and certifications to get the job done.
CertMaster Learn: Learn at your pace with interactive lessons and videos

CertMaster Labs: Get hands-on practice using real software applications

CertMaster Practice: Test your knowledge and find out if you're ready for the exam

The Official CompTIA Study Guide: Learn and review exam objectives with our comprehensive textbook

The Details
Cloud Architect Salary Range
Cloud Architect Job Outlook
Cloud technology is booming, so the outlook for jobs like cloud architect are booming as well. This technology is hot, and with that comes job growth.

From 2020 to 2030, the BLS projects an increase of 5% for cloud architects, with 9,000 net new jobs expected during that 10-year period.
Job Titles Related to Cloud Architect
+ Means More
At CompTIA, + means IT careers. That means you can consider us your partner on your journey to becoming certified, finding, interviewing for and winning that new job role.
We help you save money. Getting a CompTIA certification is an investment in your career but getting a discount can help. There are several ways you can save money on your CompTIA purchases.

We help you decide how to take your exam. Scheduling your exam is the easy part. CompTIA exams are offered at testing centers around the world as well as through online testing, which is available 24/7, so you can test in person or at home. Learn more about your testing options.

We help you land your next job. We've teamed up with ZipRecruiter so you can get access to job alerts, digital badging and more. Be sure to sync your credentials on ZipRecruiter as you continue to grow within the tech industry.
Need more job inspiration? Check out CompTIA's Tech Job Report video series now premiering on CompTIA Connect. Learn more about the latest data and trends in tech hiring and the implications for employers and the U.S. workforce with new episodes each month.
Will your next move be cloud architect? If so, check out CompTIA Cloud+ to get the skills to get you there.