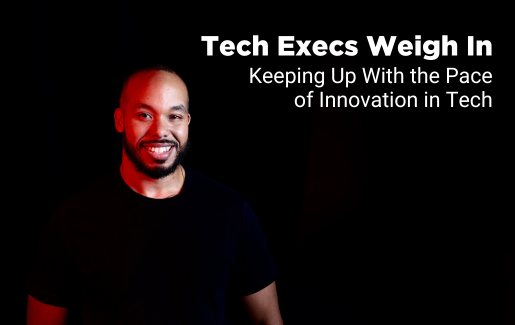 Earlier in his career Ricardo De La Cruz, director of information technology at Barbarian, got a fast-paced tech job planning to learn everything. He finds that in today's fast-moving tech world, there are better moves than just moving fast.
During the eight years De La Cruz spent working at a small advertising startup early in his career, he did IT "without a net," as he puts it. Setting up complicated deployments in high-pressure situations was the kind of work he wanted to do, and being the startup's only IT pro, he did it all. Working star-studded events such as the Tribeca Film Festival and New York Fashion Week, he could not tell a boss, let alone a celebrity, that the Wi-Fi was out. At go-live time, there was no margin for error. But it was worth it.
"I wanted the opportunity to just get thrown in the fire," De La Cruz said. "I got what I asked for. I loved it. I tell all the crazy stories, all the overnight times I had to restore the network. I wouldn't change it for anything."
While this demanding daily test of tech skills and creativity taught him a lot and boosted his career, it is not a method De La Cruz recommends for moving up in IT. When I spoke with him, as he worked remotely in the Washington Heights neighborhood of Manhattan, he described a view of what works best for IT pros and businesses that was almost the opposite of handling everything at a breakneck pace.
He finds that even in the rapidly moving tech world, people thrive in environments that show appreciation, eschew scare tactics and give everyone adequate time and resources to prosper. The following insights that he shared reveal how business leaders can set the foundations for these winning work environments, and how IT pros can build the skills they need to succeed.
The Best Place to Start a Tech Career
Before his fast-paced startup job, De La Cruz rose through IT's ranks starting as a curious college intern, then built his skills and knowledge through a number of roles. One role in particular sticks out to him as important for any industry novice: A job at the help desk. Not only does it get your foot in the door at a company, but it also gives you a feel for the industry you can't get anywhere else.
"I'm always an advocate for anybody that's interested in tech to explore desktop support, just because you get to meet everyone, you get to talk to everyone, you get to learn the business," De La Cruz said.
Specialize (and Take Your Time)
When he set out to work in technology, De La Cruz found countless potential paths to take. Whether network administration, server administration, coding, cybersecurity, DevOps or anything else, his inclination was to try to master it. Looking back, though, De La Cruz believes this initial mindset may have spread him too thin. He advises aspiring tech pros to try a lot, learn a lot, then specialize fairly quickly in what feels right instead of stressing about needing to become an expert at it all.
"It's a long game," De La Cruz said. "It takes a bit of time for someone to find their niche. Be patient, try a lot of different things. [People] naturally gravitate toward what they like and what they do best."
The Future of Tech Leadership Is Strategic, Human
As De La Cruz has moved into leadership, his observations have been matching up with the emerging conventional wisdom that strategic thinking and interpersonal soft skills (sometimes called durable skills) are both critical for leaders, maybe more so than ever. Today, new highly-touted tech innovations flood the market and leadership must encourage curious, thoughtful assessment instead of knee-jerk investment in flash-in-the-pan tech that will not pay off. Personal connection, not ones and zeros, is the starting point to communicating such critical messages.
"We need to connect with every department head," De La Cruz said. "In order to do that they have to like us, they have to be able to talk to us, they have to trust us."
Tech Pros Should Feel Safe Floating Ideas
De La Cruz believes that businesses suffer when the expectation to "know it all" makes IT pros scared to ask questions. He says creating a safe space where everyone is comfortable asking anything is paramount to addressing problems and proactively preventing bigger issues from forming. C-suite and help desk staff alike should feel OK asking questions even as basic as the meaning of an acronym being discussed. With full confidence in a team's expertise and competence, a leader knows that there is no dumb question.
A Motivating Force
De La Cruz finds that tech pros who understand their role in the bigger strategic picture in how an organization fulfills its goals are more excited to do the job—and do it well.
"Everybody in every single role, from desktop support to network manager to anyone managing our security systems, needs to understand why IT is important to the business," De La Cruz said. "It shouldn't be just the CIO or the senior IT manager, it should be everyone. When they do their work, they do it with integrity. They really believe in what they do and they're very proud of what they do."
Launch your IT career with certifications like CompTIA A+. Learn the skills you need to pass your certification exams with CompTIA CertMaster Learn + Labs. Sign up for a free trial today!