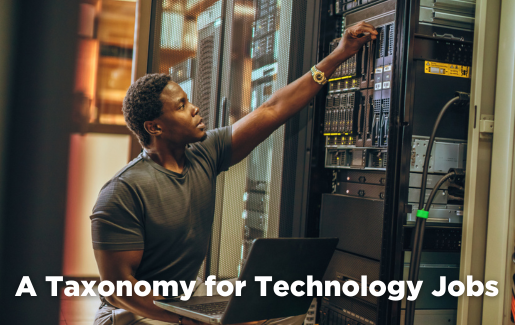 CompTIA's mission is to unlock potential for every individual seeking a career in technology. From our training offerings to our certifications to CompTIA Spark, our goal is to provide top-notch education in technical skills and to help people leverage those skills into fulfilling careers. With demand for technology workers staying strong, this is a challenge that will be around for the foreseeable future.
It's also a challenge that is getting more complex. Our recent State of the Tech Workforce report found that job postings that reference skills in emerging technology such as artificial intelligence (AI) or blockchain have grown 186% since 2017. As these skills evolve and organizations explore specializations that help drive positive outcomes, there is an explosion of job roles and titles in the technology space.
In order to bring some structure to this dynamic landscape, CompTIA has developed the Tech Jobs Taxonomy. This framework builds on many external data sources and classification systems while focusing on CompTIA's approach and understanding of the market. By combining three different elements, the Tech Jobs Taxonomy provides a roadmap for understanding technology careers no matter what a person's starting point might be.
Ingredient 1: Six Job Families
A long time ago, IT basically meant one thing to most organizations: Infrastructure. Most individuals working in technical jobs were responsible for installing and maintaining the hardware that provided computing power and network connections. There was always some sort of software application running on this infrastructure, but that often came in the form of packaged software that got installed on the hardware and was then monitored by the IT team.
Today, there is a lot more going on. Organizations still have a critical need for infrastructure to run technical operations, but they are now developing their own software and also focusing on other specializations as valuable activities. At the moment, there are six major families that contain the many different roles an organization might fill: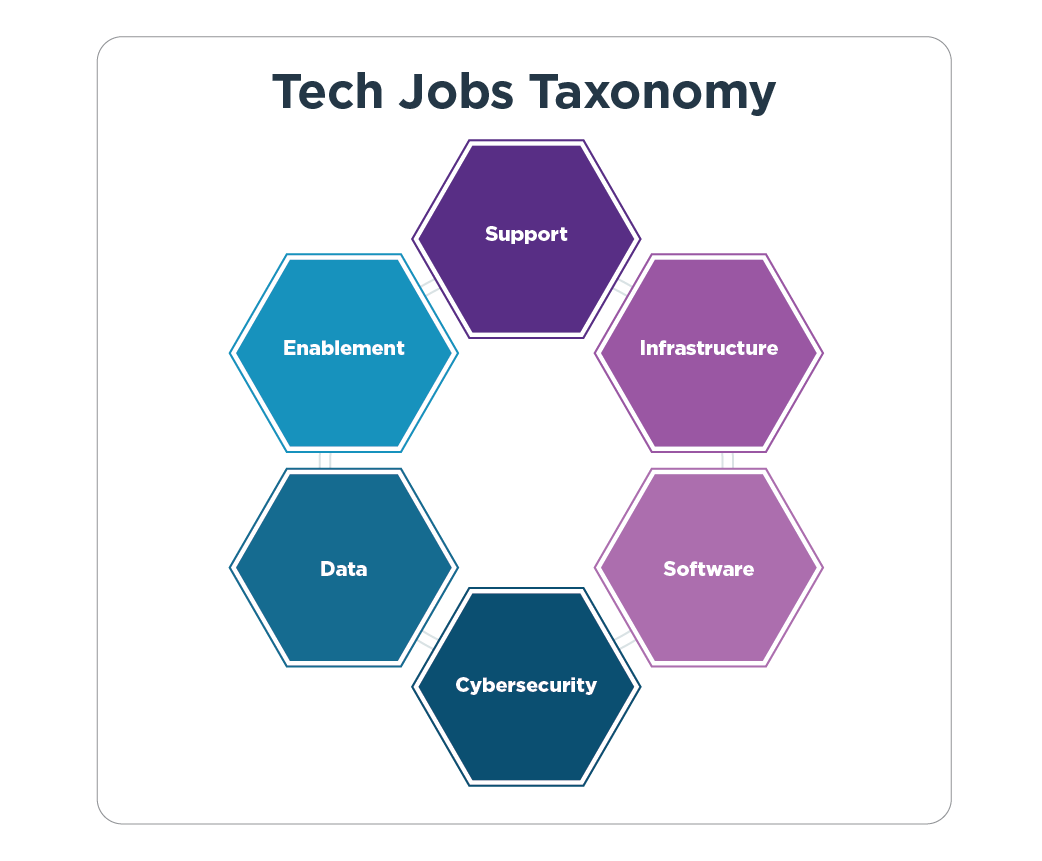 Support: Even as many routine support tasks are being automated, organizations continue to invest in tech support in order to drive the highest levels of productivity and handle increasingly complex employee experience issues.
Infrastructure: The most cutting-edge solutions still need to run on hardware (real or virtualized), and infrastructure professionals need to stay on top of the latest trends in cloud computing and architecture optimization.
Software: Whether it's improving online presence or exploring the latest AI tools for strategic implementation, organizations often have internal software resources to build internal tools or to customize and automate third-party applications.
Cybersecurity: Reliance on digital operations means that cybercriminals have lots of opportunity for profit, and changes in cybersecurity such as a zero trust approach and formalized risk analysis are driving demand for multiple specializations.
Data: The focal point for competitive differentiation is quickly becoming the ability to manage and analyze the vast datasets sitting in different organizational silos, and data is poised to be the largest growth area in technology over the next decade.
Enablement: The complex technology ecosystem is driving demand for a wide array of workers who ensure technology activities are running smoothly, such as IT project managers, department leads and IT channel professionals.
Ingredient 2: Speed to Role
The supply/demand equation for tech employment has a few different variables. First, organizations are looking for lots of technology workers. Second, traditional education pathways can't produce enough candidates to meet the demand. Third, organizations are often looking for workers with some degree of experience. Finally, employees in other careers are looking to make a change.
With all this going on, the big question is: How does someone get started in a technology career? Answering that question requires an understanding of how much skill and experience is needed for a specific job. There can be many different entry points, and those entry points can lead to many different advanced roles.

CompTIA's taxonomy uses a scale to describe speed to role, meaning the amount of time someone might dedicate to building the required skills or the amount of experience at lower levels needed to advance to a more senior role. Some jobs may be considered entry level jobs because they are the first job on a particular pathway, but that doesn't necessarily mean they require only basic amounts of training. As CompTIA drills down to describe specific job roles, the speed to role designation will help an individual understand the relative level of complexity and the amount of training needed.
Ingredient 3: T-Shaped Skills Model
More and more employers are expecting their technology professionals to be well-rounded. This includes the ability to work across different teams and the knowledge of how technology drives overall objectives. Of course, this doesn't mean that technical skills are low priorities. Having depth and breadth in technical areas helps workers reach more advanced levels.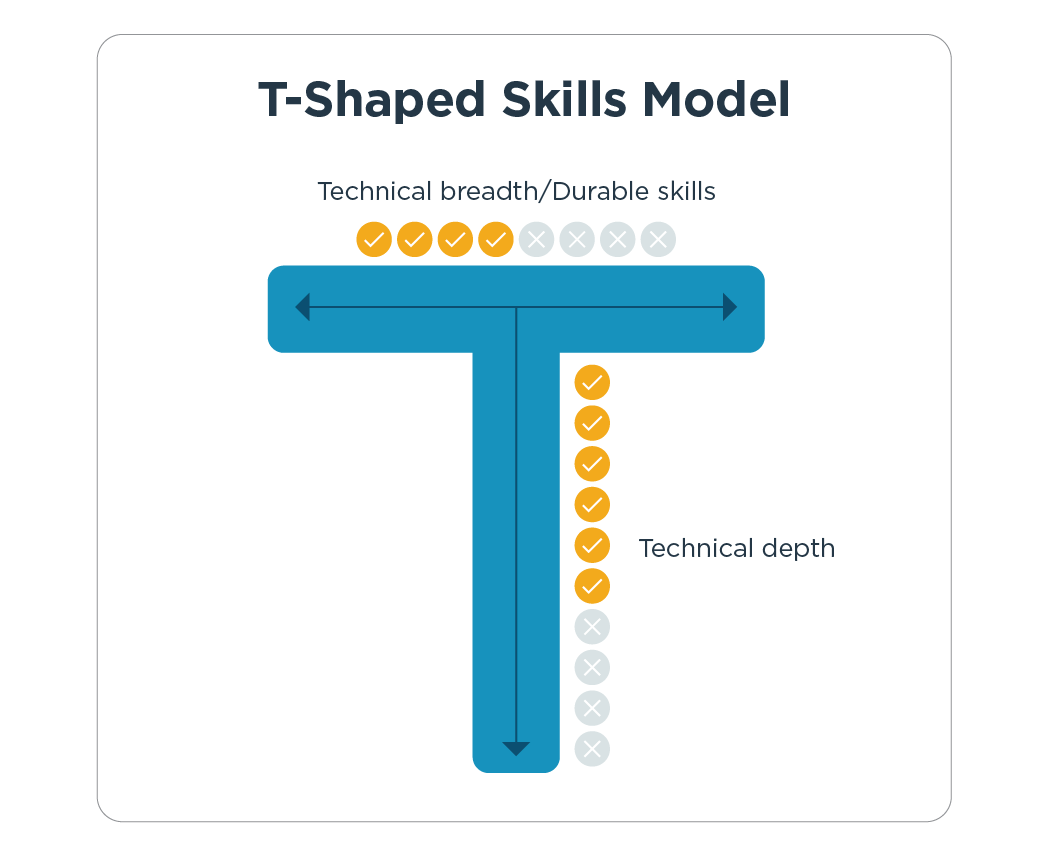 The T-shaped skills model has been around for many years, but it's getting more attention as organizations think about upskilling their workforce and employees think about the direction they want their career to take. The vertical axis represents technical depth, as an individual builds more skill in their specific field. The horizontal axis represents technical breadth and durable skills such as communication or teamwork.
The beauty of the T-shaped skills model is that it can be a tool for identifying skill gaps. If an organization has a strong process for defining the skills needed for each role, that allows both internal and external candidates to identify the areas they need to work on. This is true whether the candidate is just starting out, starting from another technical position, or starting from a non-technical position where they might have some of the required durable skills. CompTIA's Workforce and Learning Trends 2023 report found that 84% of organizations use a T-shaped skills model in some capacity to guide talent management.
Getting into a technology role can seem intimidating. But understanding the options and building the right plan can help anyone find a rewarding career. These three components are the basic tools that can jump start that understanding, and we're excited about even more tools we'll provide in the future as we help people on their career journey.
Get more tech insights like this right in your inbox with CompTIA's IT Career Newsletter. Subscribe today, and you can save 10% off your next CompTIA purchase.