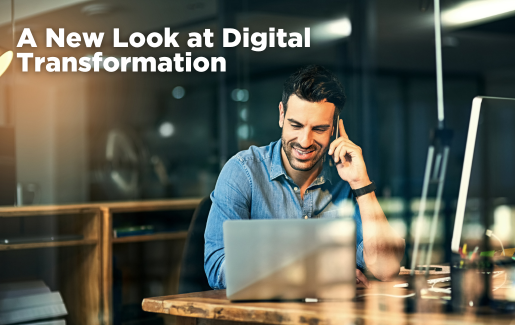 We talk a lot in the technology industry about hype cycles. New trends often capture the imagination, leading both technology workers and pundits to speculate on the possibilities of cutting-edge tools or platforms. Sometimes the hype is justified; sometimes it's not. And even when it's justified, sometimes it takes quite a while for the potential to be realized.
Digital transformation (often abbreviated as DX) is one of those topics where there is still some debate over the long-term implications. The term cropped up a few years ago, and people immediately took sides, with some seeing a real change in the way that organizations approached technology and others seeing a buzzword without much practical value.
The initial hype died down during the pandemic, but as organizations are returning to more strategic thinking around technology's role, we've been noticing that the topic is regaining some momentum. CompTIA research recently conducted a study to gauge how organizations are thinking about digital transformation and what it actually means from an operational perspective.
The Drivers for DX
Before jumping into the details of the survey, let's set the stage with two big shifts in the role technology plays within an organization. The first shift is a shift in mindset, viewing technology as a strategic function rather than a tactical necessity.
For many years, technology played a supporting role to business units, which then drove the overall mission of an organization. This meant that requirements were often thrown over the wall for IT to build systems, and IT was typically viewed as a cost center. Today, technology still plays a supporting role but also often works alongside business units to directly drive objectives, changing the conversations between departments and the return-on-investment (ROI) calculations needed for technology.
The second shift is a shift in approach, defining where the primary effort is focused for technology initiatives. In the past, most of the effort has gone toward building a foundation of technology, improving the capabilities and accessibility of organizational computing platforms. Cloud and mobile essentially stabilized this foundation, and now there is more effort going into building applications, which are growing more complex as organizations invest in software development and data analysis.
For more on these shifts, see CompTIA's whitepapers Using Strategic IT for Competitive Advantage and The Role of Emerging Technology in Digital Transformation.
Together, these two shifts have brought organizations to the point where simply having technology is not enough of a competitive differentiator. The next challenge is using technology in innovative ways to reach customers and expand into new markets.
5 Components of DX
If a shift in mindset and a shift in approach are driving this thing called digital transformation, the next big question is: What is digital transformation? CompTIA's study helped clarify five components of DX, centered around the primary disciplines that make up technology operations.

Evaluation and Adoption. This overarching behavior involves both a new component and an evolutionary change. The new component lies in the way companies evaluate new technology. Many companies have not performed this in the past, and they may need to restructure teams and create processes for evaluation and implementation. The change lies in the speed of adoption. Organizations that previously waited for fully refined technology may need to take on an extra degree of risk in order to accelerate technology benefits.
Cloud-First Infrastructure. Especially following the pandemic, companies are investing in cloud systems as a way to build resiliency and flexibility. A cloud-first approach to infrastructure does not necessarily mean cloud-exclusive. Many systems may remain on-premises for cost or security. However, cloud architecture will be a first option for new systems under consideration, and there will also be ongoing efforts to identify existing systems that benefit from cloud migration.
Software-Defined Processes. For many years, a large number of organizations simply implemented packaged software from vendors with little in-house software development activity. Thanks to internet applications, microservice architecture and open source code, the situation has changed. Many companies now perform some level of software development, often for the purposes of customization or automation. The work done by these new software teams is aimed at improving internal processes.
Data-Driven Decisions. New capabilities around unstructured data and large datasets have created high demand for data analysis. Executives and upper-level managers are keen to use new insights when making decisions. Organizations are finding, though, that the solution is not as simple as hiring data analysts. Data analysis must be fed by a solid foundation in data management, and many firms are investing in database administration and examining their overall data flow as the first steps in becoming data-driven.
Cybersecurity-Aware Operations. Cybersecurity is a thread woven through each aspect of digital operations. What was once a highly defensive mindset (the secure perimeter) has become a complex, proactive philosophy (zero trust architecture). Cybersecurity must be considered for every part of operations, from technical systems to business processes to workforce behaviors. In many ways, cybersecurity is now less of an IT topic and more of a business imperative, no different from finance or legal.
The big challenge, and the place where DX really makes an impact, is in blending these components together. Many organizations today are pursuing initiatives in these areas, whether optimizing a hybrid architecture, improving web presence, managing data from a variety of new sources or automating cybersecurity monitoring. True transformation takes place when these initiatives break out of silos and work together to achieve a broader goal, such as improving sales efficiency or driving customer satisfaction.
Although the hype cycle for DX started a few years ago, it feels like we're still in the early days of understanding the ultimate potential. We're looking forward to more exploration of this topic and more conversations with our different audiences to understand how DX is helping organizations reach new levels in today's digital economy.
Get more tech insights like this right in your inbox with CompTIA's IT Career Newsletter. Subscribe today, and you can save 10% off your next CompTIA purchase.