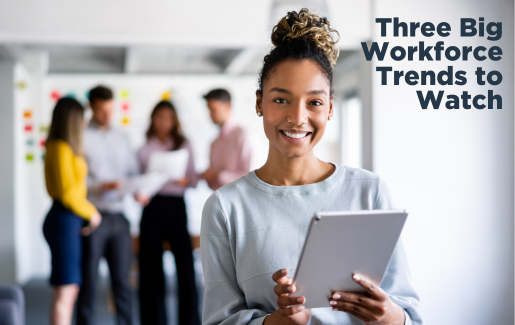 Over the past few months, we've written quite a bit about the dynamics of the technology workforce. I've unpacked some of the truths behind headlines about Silicon Valley layoffs and talked about options for skill building in 2023. Our chief technology evangelist James Stanger touched on the need for strong tech foundations to meet today's demands. With the release of CompTIA's State of the Tech Workforce 2023 report, these threads all come together in a comprehensive view of the U.S. tech workforce landscape.
The main numbers from the report continue to tell the story we've been telling this whole time: Technology is a highly demanded skill and a promising career choice. Let's look at the highlights:
In 2022, tech employment grew by 3.2%, and it is forecasted to grow another 3% in 2023
Over the next ten years, the tech workforce will grow twice as fast as the overall U.S. workforce
Technology contributed an estimated $1.97 trillion to the U.S. economy, or 8.8% of national economic activity
These stats reflect a robust industry and healthy workforce. Digging even further into the data, there are a few different trends that will be interesting to watch as employers, educational institutions and career seekers try to navigate the changes taking place in this complex environment.

Job Roles: Building on Basics
There aren't too many surprises when it comes to the fastest-growing jobs of the future. It's all about data, cybersecurity and software. In 2023, the top projected growth occupations are data scientists and analysts (5.5%), cybersecurity analysts and engineers (5.2%) and software developers and engineers (4.7%). Over the next decade, things will be even more dramatic, with the number of workers in these jobs expected to double – or even triple.
Infrastructure jobs aren't claiming the top spots, but that doesn't mean infrastructure is going away. One reason the growth rates aren't quite as high in infrastructure is that the existing base of infrastructure workers is much more established. Most organizations have IT support specialists or network admins, and now they're adding more diverse skills.
Moving forward, it's important to remember that all the data and software solutions ultimately run on hardware. Whether that hardware is on-prem or in the cloud, it will always be in an organization's best interest to run their architecture as efficiently as possible, which will continue to mean an investment in infrastructure skills. Those skills can even be a good launching pad for other careers, especially as finding more advanced skills on the open market proves challenging.
Emerging Technology: Layers of Options
There has been a lot of interest in emerging technology in recent years, and there have also been a lot of questions. While we see plenty of tantalizing examples in areas like metaverse, crypto or artificial intelligence (AI), we don't see quite as many business applications. It's always hard to say what will cause the breakthrough, but one certainty is that new skills will be needed.
In thinking about how skills will evolve, it's helpful to look at how the technology has been evolving. For the most part, emerging technology does not show up as standalone products. Instead, it gets integrated into other solutions as a way of enabling more powerful functionality.
The State of the Tech Workforce report shows that there was 186% growth in emerging tech-related job postings between 2017 and 2022. In some cases, there were certainly postings for specialized roles such as IoT architect or AI engineer. In many cases, though, the postings were for more traditional jobs that now require some degree of emerging tech skill. That ratio will likely stay steady in the years to come.
Work from Home: Hints of Transformation
We're learning that restabilizing after the pandemic is going to be a long effort with hard-to-predict outcomes. Remote work is a perfect example of how complicated things can get. While employees love working from their couch in pajamas in the short term, they may have long-term career goals that require more time in the office, and employers can wait to see exactly how things balance out.
Another complication comes from new opportunities blooming. If tech careers used to be concentrated in a few locations, then remote work opens the door for living outside those locations. However, tech careers are becoming much less concentrated. The new report shows that an estimated 50,000 net new jobs were created last year in states that have not traditionally been viewed as tech hubs, such as South Carolina, Indiana and Alabama. Looking for careers in new places might allow job seekers to live where they want while also getting some of the in-office benefits that boost their career.
Ultimately, the result will likely be some sort of hybrid situation. Around one third of last year's 4.1 million job postings specified work-from-home or hybrid work options, a 146% increase over the pre-pandemic rate. As career opportunities spread to new regions and workers take advantage of greater flexibility, there will be downstream impacts not just on work but also on the shape of society.
The bottom line is that it's an interesting time to be in tech. That's mostly a good thing but living in interesting times has some downside too. There will be a lot of churn as companies figure out exactly how to set their technology strategy and build employee experience. There will also be tremendous potential for those who want to be on the cutting edge and answer challenging questions.
Stay up to date with CompTIA and tech skills by subscribing to CompTIA's IT Career News. As a thank-you, we'll give you 10% off your next purchase.